November 2008 - Tenon Wood Used in Ground-Breaking Bridges
On Saturday November 29th, the successful transportation and installation of the world's first heavy traffic road bridge made from Accoya® wood took place. The bridge, located in Sneek in the Netherlands, is the first wooden bridge in the world that can support the heaviest load class of 60 tons. An official opening ceremony and celebration is planned for April 15, 2009.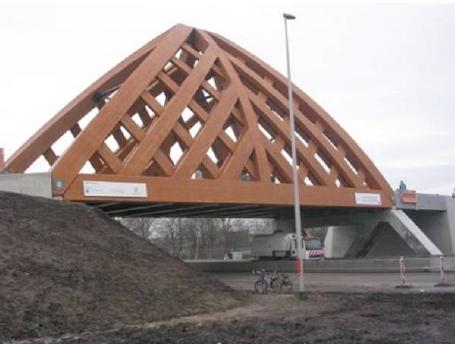 Tenon supplied 1200m3 of FSC®-certified lumber to Titanwood BV over the period December 2006 to April 2007 for manufacture into Accoya®, for this project.
Spanning 105 feet and rising more than 50 feet in the air, this impressive structure will serve as a beautiful grand entrance to the city of Sneek. The €3.5 million bridge was commissioned after a 2005 design competition, and is designed by OAK Architects (a collaboration between Achterbosch Architectuur and Onix architects) and constructed by German firm Schaffitzel Holzindustrie.
When designing their masterpiece, OAK Architects specified Accoya® wood because of its many benefits, including high strength to weight ratio, enhanced durability and dimensional stability, non-toxicity and aesthetics. The wood used in the bridge's dramatic design not only makes it look impressive but performs also the important function of bearing the traffic load.
Subsequently, Tenon has supplied a further 1200m3 of lumber for a second similar bridge in Sneek.