What we do
Tenon operates pine processing facilities in Taupo, New Zealand. This is a strategic location - close to high-quality forest resources and major export ports.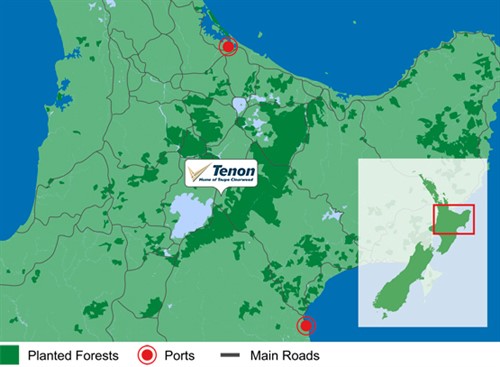 Our Taupo site is the country's largest manufacturer and exporter of defect-free, appearance-grade radiata pine products. It is a specialised high-value clearwood production facility - with over half its sawn timber output being used on-site in further manufacturing.
Our premium quality pruned pine is shaped into appearance-grade timber and boards for the demanding North American, Australian and European markets. This timber is also converted into a wide range of mouldings for interior finishing.
Our operations include:
Sawmilling
Tenon operates New Zealand's largest pruned-log sawmill, with capacity to process 400,000 tonnes a year of radiata pruned butt logs. The sawmill specialises in value and grade recovery - and is one of few such mills in the world to operate 24/7.
Mouldings Plant
Commissioned in 1997, our mouldings plant is now one of the largest exporters of solid lineal mouldings to the US. We process a variety of lumber thicknesses to meet international customer demands. Our three high-speed Weinig moulder lines incorporate re-sawing, barcoding, grading and packaging. One line is specialised for producing small mouldings.
Boards Plant
Our board plant produces high-grade finished clear lumber products up to 300mm wide, for DIY and contractor markets.
To ensure our products reach the customer in quality condition, we package all products within the plant, and dispatch from the site in 'high cube' containers directly to our world markets.